World Heritage Exhibition Stralsund
Heritage of Humanity
The UNESCO World Heritage List reads like a fantastic storybook of human history. The "Historic Centres of Stralsund and Wismar" have joined the ranks of the 1.154 unique sites of cultural and natural heritage worldwide, which include the Great Barrier Reef in Australia, the Great Wall of China, the Serengeti National Park in Tanzania and the Acropolis in Greece.
Small but Beautiful
The World Heritage Exhibition can be visited daily from 10am to 5pm in Olthof's Palace at Ossenreyerstraße 1. The exhibition begins with an introduction to the World Heritage concept and an illustrated journey to many international World Heritage sites. All 51 of Germany's World Heritage sites are described. The outstanding universal values of Stralsund's World Heritage site can be explored interactively through films, animations, exhibits and wallboards. The largest exhibit on view of the World Heritage Exhibition can be found in the courtyard: here, young visitors can become World Heritage explorers while excavating the layout of Stralsund's old town in a sandbox. Visitors can also request a guided tour of the World Heritage Exhibition. Tours can be booked on site or by calling 0049 3831 252 310.
Hackert's Salon
A unique gem of art history can be found in the first floor of Olthof's Palace, where Jakob Philipp Hackert created a "wallpaper hall" (Tapetensaal) between 1762 and 1765. The wallpapers are fragile and require strict climate-controlled conditions As a result, public access is limited to tours on Thursdays at 4pm (except bank holidays) or appointments booked in advance by calling 0049 3831 252 310.
More information
City Profile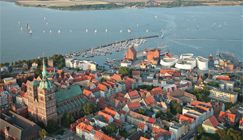 Tradition meets Modernity: Not only is the year 1234 easy to remember, it also marks the beginning of Stralsund's exciting 780-year history.
More information