Welcome Gift
Application and payment
To help you get started in your new life as a student, the city administration offers a welcome gift of 150 euros. Students who register Stralsund as their principal residence receive this welcome gift in the form of a one-time payment - quickly and with no red tape.
How to get the Welcome Gift for students?
The "Book of Vouchers" (Gutscheinheft) is available at the university and was developed in a joint project involving the Stralsund University of Applied Sciences, the university's Friends' Association (Förderverein) and the Department of Economic Development of the Hanseatic City of Stralsund.
With this book, students at the Stralsund University of Applied Sciences can submit a one-time application for the welcome gift of 150 euros at the Stralsund Registry Office (Ordnungsamt, Schillstraße 5-7, 18439 Stralsund). Just present your certificate of study from the university and register your principal residence in Stralsund for the purpose of studying at the university.
Applicants can choose to have the money transferred to their bank account or paid out in cash at the city treasury's office.
Required documents
Valid ID or passport
Current certificate of study/apprenticeship contract
Important information
Applicants must register their principal residence in Stralsund.
City Profile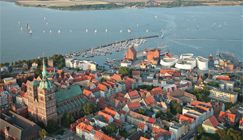 Tradition meets Modernity: Not only is the year 1234 easy to remember, it also marks the beginning of Stralsund's exciting 780-year history.
More information