Real Estate
Are you looking for real estate for private or commercial use? In Stralsund, you are guaranteed to find the perfect site – for lease or sale.
We are available to help you find a location in Stralsund or the surrounding region for residential and/or commercial purposes. Your property service providers are the Hanseatic City of Stralsund and the urban renewal and development Stralsund limited company, Stadterneuerungsgesellschaft Stralsund mbH.
Business Parks
The conditions for entrepreneurship and business along the Strela Sound are outstanding!
Advantages include: the central location on the coast of the Baltic Sea, easy accessibility, modern infrastructure, qualified and flexible workforces, low costs for electricity, water and heating, attractive funding opportunities and a business-friendly administration.
Fully developed and individually sized parcels of commercial land in easily accessible locations on the outskirts of the city are available in Stralsund for the relocation, expansion or establishment of your company. We can offer you land perfectly suited to your needs in one of the municipal business or industrial parks.
All business parks are located along a main road or the connector to the A20 autobahn. Stralsund's proximity to the Strela Sound offers excellent opportunities for ship transport.
Examples for Real Estate in Stralsund
Examples for Business Parks in Stralsund
City Profile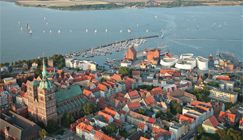 Tradition meets Modernity: Not only is the year 1234 easy to remember, it also marks the beginning of Stralsund's exciting 780-year history.
More information